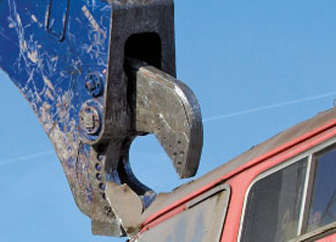 SHEARS - TO CUT UP SCRAP
The scrap metal is placed in a hopper by an excavator. The majority of the hoppers are also able to exert lateral pressure on the material, compressing the scrap so that larger pieces are also pushed under the shears. The cutting length can be adjusted. The operator controls the shears from a control station or a loading machine. TSR operates facilities that have a cutting force of up to 1,250 tonnes as well as excavators equipped with hydraulic shears. These can be used to cut up pieces of scrap that are particularly large or heavy.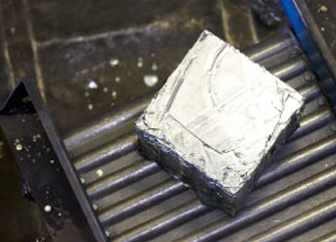 BALERS - TO PRESS LIGHTWEIGHT FERROUS SCRAP AND METALS INTO BALES
An excavator fills the baler with the scrap. The material in the machine is then pressed into bales, the size of which depends on the requirements of our customers. Pressing lightweight scrap and waste sheet metal into bales not only helps to reduce transport costs, it also means the bales are of a standard size for the furnaces at the steelworks. This, in turn, allows the furnaces to be fed more quickly and more efficiently.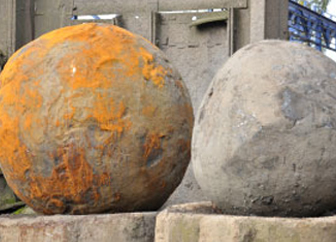 CRUSHERS - TO BREAK UP CASTING
Our crushers are used to break up very large pieces of scrap, in particular castings. The working is simplistic yet effective: a cable hoists a heavy steel ball from considerable height and drops it onto the material. The force of the impact crushes and breaks up the ferrous material. This crushers are kept in a large enclosed area to prevent small pieces of scrap from escaping as well as it reduces noise levels.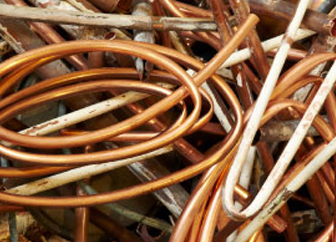 CUTTING MILLS - TO RECOVER COPPER FROM WASTE CABLES
Copper is a very good electrical conductor and a very important material for the electronic industry. This raw material is primarily used in electric cables. Various cable recycling activities help to recover this valuable raw material. These cables are fed into a cutting mill in order to remove the cable sheaths from the copper wire. The copper wires are hence separated and are eventually fed into the secularized processing units.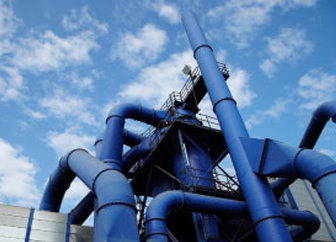 SHREDDERS - TO SEPARATE DIFFERENT MATERIALS
The material to be processed is fed into the shredder via a chute and it rolls down until it reaches the shredder's rotor. The rotating hammers then tear the aggregate materials into pieces by hammering it on the shredder's anvil-like chopping edge. Once the pieces have reached a certain size they are removed via a screen. Fine particles are sucked out and transported to the dust collection system. The material removed via the screen then undergoes further separation processes: an electromagnetic drum, separates the scrap steel from the non-ferrous metals. High quality material stands out due to its high density, its high purity and the fact that the pieces are all of a similar size. Other metals are separated into mixed metals and aluminum qualities using eddy current separators and sensor technology.